Meet the innovation family
There are different types of innovations and a 'one size fits all' approach doesn't work. A company needs to distinguish between the different family members with in the 'innovation family' as each member (innovation type) requires its own set-up, way of working and measurements.
We have developed the 4×4 innovation matrix to visualize and manage your innovation portfolio. On the vertical axis the different life-stages of the market have been placed, differentiating between emerging, growing, mature and declining markets. On the horizontal axis, the extent of the disruption for the customer is represented as being a function of four distinct possibilities:
Improvement of a product or service in an existing category
Addition of a new product or service to an existing category;
Introduction of a new, emerging category, where the category itself is new but the end-user can still link it to other existing categories of products or services;
Introduction of an entirely new category of products or services.
The essential distinction made in the 4×4 innovation matrix is between the right-hand side and the left-hand side: on the left, we see growing the existing business , on the right there is creating new business.
The 4×4 innovation matrix can be compared to an innovation family. The life-cycle of innovation on the diagonal of the 4×4 innovation matrix largely corresponds to the human development life cycle. We distinguish the following innovation family members: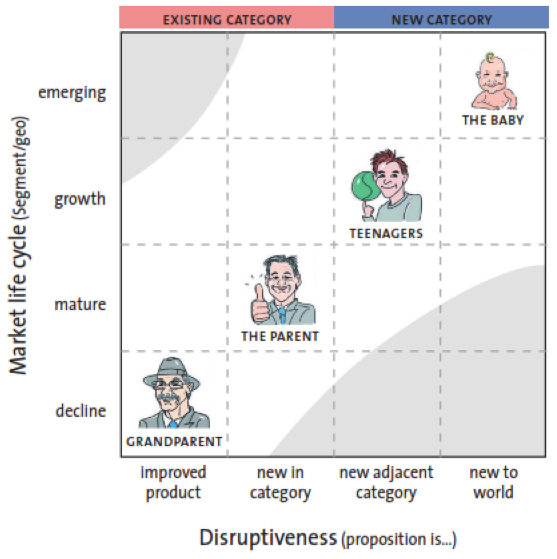 4×4 Innovation Matrix is courtesy of
Fred van Ommen (Bizz Innovation Group) and
Corina Kuiper (The Effectual Catalyst)