Innovation Family Planning. Defining the right balance in your innovation portfolio between existing and new business
Organizing the innovation family. Implement the right set-up and way of working required for the whole family as well as for the individual members
Business Model Innovation. Create new dynamic business models showing the rationale of how your business creates, delivers, and captures value
Accelerating new business. Survive puberty by co-creating the market and scaling your business in an ecosystem with partners
Business Validation Framework. Use a venture development framework to evaluate your innovation family as well as the individual members
Think & Act as Entrepreneurs. Use a set of decision-making principles, used by entrepreneurs to rapidly sense, act and mobilize in situations of uncertainty (effectuation)
Innovation performance management. Have a performance management system in place that is tuned to the specific needs of the different innovation family members
The entrepreneurial toolkit. Use a set of tools to translate customer insights into value propositions and business models and to build partnerships for co-creating the market and to accelerate, applying the principles of lean start-up and effectuation
Business Model Innovation
A business model describes the rational of how your business creates, delivers, and captures value. In existing businesses this rational is predictable. Innovation of a business model starts with looking at customer needs and creating new value propositions to meet that need, using the competences that are available. A company determines new goals and makes a choice from the available alternatives in the end. These goals define the resources required. Protection of the ideas and plans is important as the company needs to position itself in a competitive environment (Red Ocean). The focus is on expected return and the associated risk should be minimized. Planning and focus help to avoid contingencies.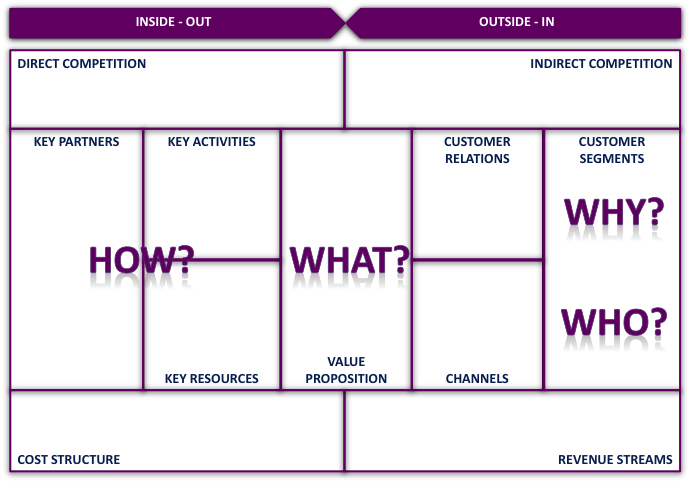 In new business prediction is not possible, since future environments depends on own actions. Entrepreneurs always start with the existing means, from which they defined imagined ends (think big). The goals they choose to pursue are within their affordable loss (act small). Customers discover iteratively and together with the entrepreneurs what the best solutions are for their needs. Entrepreneur co-creates new solutions for new markets together with customers and partners. By combining forces, they can accelerate. New platforms are created. Business modeling is no longer static, but dynamic and iterative. Each assumption need to be validated in the market and adapted based on the feedback as no business model will survive the first contact with the market. The focus is on failing fast and cheap and learning from it. Business modeling is dynamic as each stage of the life of the start-up will have its own business model
We can support you in defining and improving your business model. Also workshops and training on business models are part of our offering.